4 TONS 12 TONS TO 16 TONS LIGHT RACK BODY,OR COLUMN BOARD,OR GATE CARGO TRUCK CHASSIS
Brand SINOTRUK
Product origin CHINA
Delivery time 30 DAYS
Supply capacity 1000PCS
Sinotruk Howo 4x2 light duty trucks have the industry's highest security.Frame type or L type rearview morror matches scientifically according to the overall vehicle length,split-type lens ensure no blind spots,that makingdriving more safety.
The body of Sinotruk light duty trucks using European technology,advanced producing technology,the introduction of imported welding production lines,selecting high quality cold-rolled steel to ensure the cab high strength,better security in similar products.
The frame is most wide in the industry and the driving stability is the best.The width of 170,195,215 frame is 800mm(215frame is 800mm or 865mm) and the width of 232,250 frame is 865mm, the frame is wider than other products,when loading measurement cargo meet uneven road or pblique road, it will show better driving stability, and when you drive at high speed into the corners, there is no need to make substantial deceleration, the opening of vehivle efficiency increase.
4 TONS 12 TONS TO 16 TONS LIGHT RACK BODY,OR COLUMN BOARD,OR GATE CARGO TRUCK CHASSIS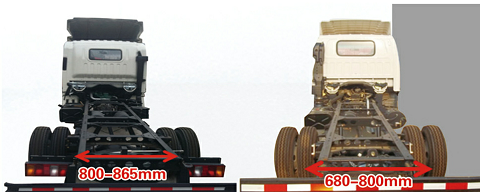 Wide filed Sinotruk Howo 4x2 light duty truck
The angle of the front windshield increase 20 degrees, with an area increase of 0.3 spare and splittype lens make the drivers more open vision, unblocked field A-pillar design wipes out the blind spots, to improve the security further.
Beacause the front windshield of other products has large radian and the integrated morror,the driver's firld of vision is limited.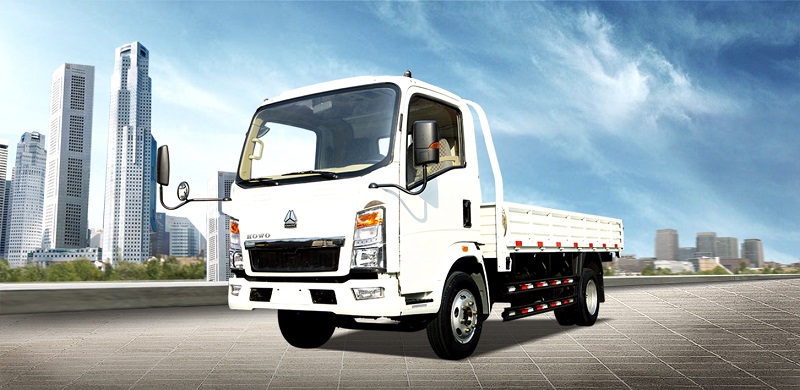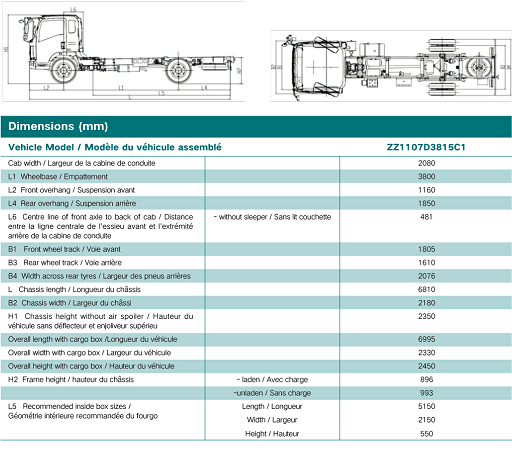 Weights(kg) of 6 tons Howo light duty trucks:
| | |
| --- | --- |
| Gross vehicle weight(GVW) | 8495 |
| Complete vehicle kerb weight | 3430 |
| Chasis kerb weight | 3205 |
Performance of 6 tons Howo light duty trucks:
| | |
| --- | --- |
| Maximun speed(km/h) | 113 |
| Maximum gradeability(%) | 35 |
| Minimum turning diameter(mm) | 15.5 |
| Minimum ground clearance(mm) | 210 |
| Fuel comsumption(L/100km) | 12-17 |
Engine of 6 tons Howo light duty trucks: Euro 2
Model:YN4102QBZL,4 cylinders in line,3.76litre,diesel
Rated power: 116ps@3200rpm
Maximun torque:330Nm@1600~2000rpm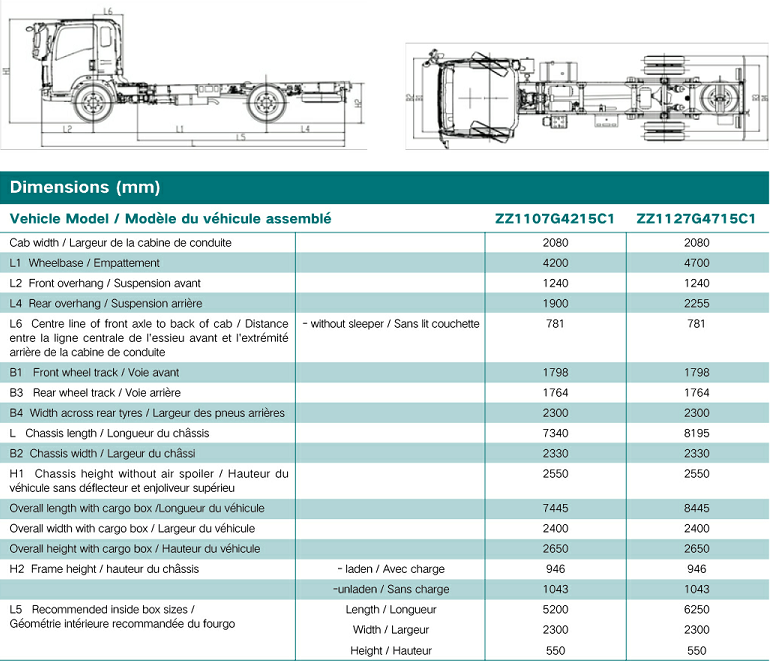 Weights(kg) of 8 tons Howo light duty trucks:
| | |
| --- | --- |
| Gross vehicle weight(GVW) | 12490 |
| Complete vehicle kerb weight | 4335 |
| Chasis kerb weight | 4135 |
Performance of 8 tons Howo light duty trucks:
| | |
| --- | --- |
| Maximun speed(km/h) | 95 |
| Maximum gradeability(%) | 35 |
| Minimum turning diameter(mm) | 16.8 |
| Minimum ground clearance(mm) | 210 |
| Fuel comsumption(L/100km) | 20-25 |
Engine of 8 tons Howo light duty trucks: Euro 2
Model:YC4E 140-33,4 cylinders in line,4.257litre,diesel
Rated power: 140ps@2800rpm
Maximun torque:430Nm@1300~1700rpm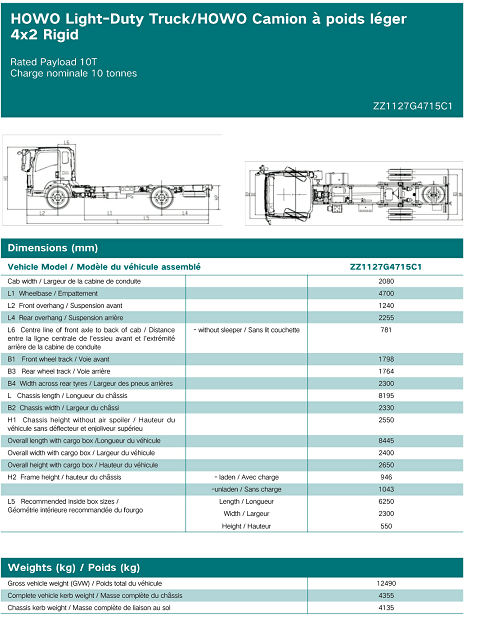 Weights(kg) of 10 tons Howo light duty trucks:
| | |
| --- | --- |
| Gross vehicle weight(GVW) | 12490 |
| Complete vehicle kerb weight | 4335 |
| Chasis kerb weight | 4135 |
Performance of 10 tons Howo light duty trucks:
| | |
| --- | --- |
| Maximun speed(km/h) | 95 |
| Maximum gradeability(%) | 35 |
| Minimum turning diameter(mm) | 16.8 |
| Minimum ground clearance(mm) | 210 |
| Fuel comsumption(L/100km) | 20-25 |
Engine of 10 tons Howo light duty trucks: Euro 2
Model:YC4E160-33L,4 cylinders in line,4.257litre,diesel
Rated power: 160ps@2600rpm
Maximun torque:520Nm@1300~1700rpm